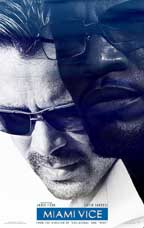 First of all, this movie sucks! I couldn't help sleeping for about 30 minutes, for real. Story line is cheap and a little too complicated. That could be cool and sexy movie, but they are trying to make the movie sexy too much, and turned out it's really stupid. They also got two talented actors, Jamie Foxx and Colin Farrel. They were OK, kind of cool, but I couldn't get into them, 'cause there's no description about their personalities or their relationship each other, and their background. Maybe I should have watched the TV seriese? Someone told me the TV seriese sucks anyways.
Jamie Foxx is now a very famous actor. He's also released his hip-hop CD. People say "that black actor is very good. He looks like Eddie Murphy" Motherfucker Eddie's dead! And every single black guy looks alike for Jap idiots. One day my ex-coworker talked to me saying "who's the black guy in 'Black Diamond'?" Then right before I tell him it's DMX, he said "Oh I got it! Martin Laurence! Yeah that's him! Oh my god he's really good looking guy!" I was like "Is he?" But he said that really really confidently, so I didn't wanna hurt his feeling. So I said "Yeah, I think it was him" with screaming inside of my heart "you fucking idiot! You'd say 'Look! That's Michael Jordan!' to cheap ass African dude hanging out on the damn street!"
Then the next day, he came to me and said "man, I was wrong, it was DMX. Hahaha" What's so funny about it bitch? But I didn't wanna hurt his feeling, so I said "Yeah, all the black people look alike huh?" Then he said "Huh? What are you talking about? They look totally different! Are you fucking blind? You are so sorry man." Motherfucker, one more word, and my fist goes up into your ass.