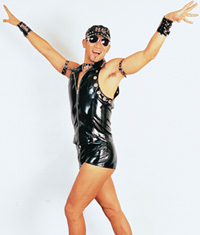 You know this guy? If you are living in Japan and watch TV regularly, I think you have seen him at least once. He is calling himself "Hard Gay", and he loves Morgan Freeman in a sexual way. He shakes his ass and say "hoo!" at the end of everything. That's his style.
My roommate back in the states just talked to me on MSN, and he says he just saw the video of him. He was like "Dude, do you know HG? Oh my god, how could Japanese people take his attitude? I didn't know gay people are widely accepted in Japan!" Yeah, his attitude is quite new for us, but somehow we can take it, probably because he is not really gay.
We still have some sort of bias against gay people. Well, I don't think anyone goes like "He was gay? So what?". But in Japan, it's a bit harder than some places like California to tell the truth. If I was a gay person, I don't think I could tell the truth to my parents. I think that's gonna stop my mom's heart. You know, let's say you have a son, and one day he brings his boyfriend to your house. Hairly, dirty old man. What would you do? I would be like "Hell no!! Get him outa here right away and never meet each other!! If you still wanna fuck with old man, I can fuck you!!" "Dad, I don't like taking a dick." "Well you can fuck me then!!"